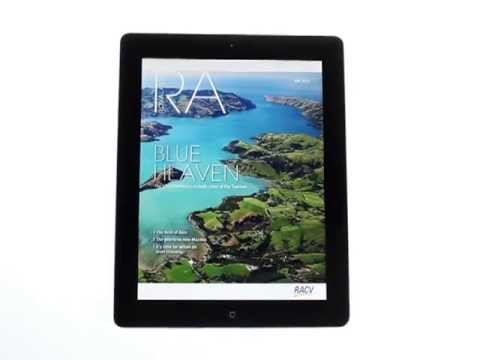 Publisher Australia's Young Mind's Event Review
Thursday, May 02, 2013 By Fiona MacDonald, PA Freelancer member and Young Minds committee member. Young Minds is proudly sponsored by Oomph - Simply Smart Tablet Publishing. In the three short years since Apple launched the iPad, tablets have become a major part of the publishing conversation. On 16th April, Publishers Australia's Young Minds committee hosted a panel discussion analysing the...
Watch
The Coles Magazine iPad App promotional video. Jam packed with beautiful easy to cook recipes, with useful functionality including Shopping lists, meal planners and favourites.  It's fastest downloaded iPad magazine in Australian and recognised by Apple as one of six top Newsstand Apps of 2012 - be sure to check it out.
1 tag
Honda Digital Brochures
April 30th 2013 Honda Australia is following up on their successful Honda Australia Magazine that launched in July 2012 with the Honda Australia Digital Brochures App exclusively for the iPad. The app brings Honda vehicle information to life with awesome interactive media, vibrant images, video and the ability to customise your drive. Every page provides the user with the option to request a...
Congratulations MCA! Anish Kapoor App wins Best...
On the evening of April 19 in Portland, Oregon USA, the Museum of Contemporary Art's Anish Kapoor ePublication was recognised at the international Museum and Web Conference MW2013. The iPad application won the Rich Media category of the Best of the Web Awards. Attracting over 600 museum professionals from across the globe, the event explores the current and potential use of digital technology...
4 tags
Introducing Oomph Cloud Connector
Connect your back office information such as spreadsheets with your apps via the Oomph Cloud Connector. Update pricing, inventory, specifications and anything else by simply updating your spreadsheet.   Advantages of Oomph Cloud Connector No longer will your app and data be out of sync No costly app updates No slow content updates Applications of Oomph Cloud Connector Sales Decks - keep...
6 tags
Announcing Oomph Pro - all our brands under the...
With the ongoing success of the Oomph brand in the digital publishing space, it made sense that our professional services, formerly Mogeneration, took it's rightful place under the Oomph brand umbrella as Oomph Professional Services (Oomph Pro). As a part of the new brand alignment, we have launched the new Oomph Pro Website. Since 2008, we have provided the tools and expertise to help...
Spotlight on the Museum of Contemporary Art and M2...
  MCA Publication - second edition. The interactive view of the Kapoor's work takes you through a preview of the exhibition and awesome behind the scenes information about the installation. As the exhibition comes to a close at the MCA, this app feature will become a multimedia celebration of the entire event. Something a coffee table book could never achieve. Explore Anish Kapoor's...
5 tags
Preview app templates online - experience before...
We've launched web previews of app templates! Now you don't need an iPad handy to experience the awesome templates available on Marketplace. With just one click, your browser becomes an all singing, all dancing iPad. Simply, hit the Preview button next to the template you are viewing and see for yourself.  All templates on the Marketplace can be previewed online. Coming soon...
7 tags
Oomph 21 is go!
Oomph is pleased to announce release 21 of our iOS platform. This is available now for all online and full service clients. We have been working through updating all of our non-standalone apps to version 21 and expect to have this completed this week. This release started its life as a bug fix release, however it was soon extended to include some new much requested functionality. We've...
That's my favourite! Encourage users to bookmark...
The New Oomph Bookmark Widget Hotspot What is it?  This new Oomph bookmark widget encourages users to bookmark pages of your content without needing to return to the bookmark button in the main navigation menu. You create the bookmark widget like any other Oomph hotspot. How is it different from the standard Oomph bookmark button? This new bookmark widget is a hotspot that can be added...
4 tags
Oomph update: Twitter API changes and widgets
You may have heard that Twitter is officially switching off its v1 API this March. Unfortunately, our Twitter feed widget uses the v1 API that twitter is removing from service.   Though these changes are beyond our control, we've been working hard to minimise the disruption these changes will have on Oomph content & our customers. The not so good news:  Changes to the Twitter API...
3 tags
An international crowd of first time Oomphers...
Graphic Designers are the new rock stars of the digital world and we love them. As part of the launch of the preview of Marketplace, Oomph joined forces with the #1 design marketplace Design Crowd to reach designers from across the globe. Oomph ran four category specific contests, to create Oomph iPad app templates to be sold through our Marketplace. The categories include: Event apps ...
5 tags
News from the lab: Oomph Live
Big news from the lab - Our latest creation, which we're calling Oomph Live, allows you to feed images, movies, news, weather or any other RSS or XML feed into your app. Think of the possibilities: Show a live weather feed in your app Grab the latest news and images from your favourite website Add a feed from the channel subscription you love Create an app version of your online...
4 tags
Oomph Editor Updates - Hotspot positioning, bug...
There's an new update for Oomph Editor that's just been released. It great news for those using it in their daily production workflow. It's version 0.1.25 and these are changes associated with this version;  - Updated to the new Marketplace  - Added the ability to download templates from the browser  - Update Hotspot positioning to enable compatible with InDesign layouts -...
3 tags
New Oomph Partner Program - You spoke, we...
Hello Graphic Designers, Design Agencies and Publishers, After speaking with existing and new clients, we decided to re-model our Partner Program to make sure all the pieces fit. We've reduced our monthly Partner fee and provided further discounts to best support your business.  Who is our Partner Program for? Our Partner Program is for Graphic Designers, Agencies and Publishers who...
Mogeneration are seeking Data Analyst interns!
It's an exciting new phase of growth and we need more hands on deck at Mogeneration in the form of an unpaid intern for our Data Analytics requirements. We've had several interns in our office. All have brought skills and passion and all have taken away learnings and experience covering the start up space, technology and App development. If you think you have what it takes to work with the...
Oomph Update: Upgrade to iOS 5 or iOS 6 before Feb...
With the release last week of Google Maps for iOS, the last major blocker to iOS 6 adoption has been removed. 94% of people are now running iOS 5 or 6 on their iPhones and 88% on their iPads. This leaves a very small percentage of people using iOS 4 and prior releases. Source: Chitika.com Supporting older operating systems comes at a cost for software companies. More systems mean additional...
Want to deliver apps on Android and iOS? We listen...
At Oomph we understand the importance of being on the forefront of technology and staying ahead of the game. So we think very carefully about where we invest our development time and money. We follow all the latest news, listen to industry experts and also use our own expertise to determine our next move. Recently, one particular expert, Adobe's Senior Director of Product Zeke Koch revealed...
iMonitor™ State of the Apps 2012: Oomph platform...
Oomph powered tablet apps rated best in world in iMonitor™ State of the App 2012 report. A global report card on iPad apps has found that the Oomph app publishing platform produces the highest quality apps, on average, in the world, outperforming a host of international heavyweights in the industry. The second annual iMonitor State of the App Report 2012, published in New York, ranks apps by...
Magazine Week Awards Review 2012
Oomph had an amazing time at the Magazine Awards catching up with old friends and meeting new ones! We are very proud of our clients whose magazines and apps spanned the Magazine Week Awards categories. A big shout out to Cosmos Magazine and their Editor Heather Catchpole who were both runner ups in the categories Best App on Mobile Device and Editor of the Year respectively. Congratulations to...
6 tags
Experience the Highs App powered by Oomph wins...
The Oomph powered App Experience the Highs, as part of a unified marketing initiative run by Armidale Durmaresq Council, has won it's second award for 2012 - The Northern Inland Innovation Award for Tourism/Leisure and Related Services. Tony Broomfield, Project Manager - Economic Development, Tourism & Marketing, who accepted the award said in his submission regarding the app, The app...
Oomph Marketplace is coming soon
What is Oomph Marketplace? Oomph Marketplace is a new online space where you can buy and sell iPad app templates. Marketplace operates in a similar way to many Wordpress template providers - simply download and modify an existing template, and then publish. It's that simple. It can take up to 6 weeks to design an app from scratch. Need to design an app faster? Buy an Oomph app template from...
9 tags
Introducing Oomph Editor - our new free design...
Our Creative Technologist Tony Redhead introduced Oomph Editor exclusively to members of our Oomph User Group at a webinar last week. If you didn't catch it - the ondemand version of the webinar is available now. What is Oomph Editor?  Oomph developers have been busy behind the scenes to produce Oomph Editor, a new tool that makes the app design process even easier. Oomph Editor allows...
Congratulations Qantas! Winners - AMA Magazine App...
Huge congratulations to our clients and friends at ACP Magazines and Qantas! We are delighted that Qantas: The Australian Way magazine app has won the Australian Magazine Awards (AMAs) 'App of the Year'. Qantas vision, content, ACP Magazine's design team and Oomph's feature rich platform unite to bring the magazine to life. Oomph CTO Tom Adams puts our thoughts into...
Tickets to Oomph design training day in Sydney...
Tickets for the iPad app design training day co-hosted by Oomph and Pollenizer is selling fast. Learn how to publish apps with Oomph and make money by creating and selling app templates. No coding skills required. Just bring your laptop with InDesign and Oomph Viewer installed. This event is a rare opportunity to learn under the direction of Oomph's Senior Design Team and be informed...
iPad mini and Oomph - The Perfect Pair
At Oomph we are very excited about the iPad mini. Many of you have questions about Oomph and the new iPad, here's everything you need to know: It just works - you need to do absolutely nothing to support the new iPad mini. Your existing apps will work. You should not need to change your content to be more readable on the new iPad mini. It is expected the reader will hold it more like a book...
A unique and relaxing experience: Artisan issue 2...
Artisan Magazine is a magazine which focuses on stories of the local, personal and unique – all things simple and beautiful. The new is issue of Artisan is a beautiful interactive trip into gorgeous organic food tutorials, up and coming artists and ways you can get creative. Animations and interactive holistic living content blend seamlessly to stimulate the mind and deliver an amazing sense...
Oomph: proud silver sponsor of Magazine Week 2012
Gearing up for an event like Publishers Australia Magazine Week is a big deal for us at Oomph. We love meeting people and getting excited about projects that are coming through the digital publishing pipeline. The experts and information available at the conference, fuel the creative atmosphere of Magazine Week and give many publishing creatives food for thought. Oomph are looking forward to...
Oomph: Bringing Inside History to Life
Inside History's iPad edition is packed with features that would be impossible to deliver in print. Just one of these features is IH's audio recordings of World War II Veteran experiences. These interviews capture the imagination, giving you a front row seat to the stories and personalities of those who fought for our freedom. Editor Cassie Mercer explains the benefits of digital...
5 tags
Designers: Make your portfolio look awesome for...
Oomph is a designer friendly app development platform. If you can happily use InDesign or Keynote, you can build apps with Oomph. Many of the innovative designers we know use our free preview app Oomph Viewer and our design guide to create interactive design portfolios for free. Adrian Stewart is one such Designer who uses Oomph Viewer to present his portfolio: I gotta say I'm loving...
5 tags
CarsGuide Live, loud and interactive
Oomph in collaboration with our partner Mogeneration and CarsGuide have launched an innovation in app design with the CarsGuide September 2012 edition. Bringing the experience to life with video, awesome photography and Oomph animations - CarsGuide deliver a crisp, colourful preview of the 2012 Australian Motor Show. We love our clients and enjoy helping them bring their vision to the iPad. So we...
Oomph Loves: Dominic Wilcox and his GPS Shoes
At Oomph we are obviously big fans of mobile computing and there's nothing more convenient then pulling out your phone and using GPS to go somewhere - or is there? Dominic Wilcox has created a fully functional prototype pair of shoes that will guide you home no matter where you are in the world. Dominic Wilcox's GPS Shoes Check out the rest of Dominic's work, it's a...
Oomph Developments: Patching is go!
As part of the work we're doing on our new Publishing Centre, we're steadily migrating features across from our old Dashboard. The latest of these features is content patching. Patching allows you to patch existing content with a small patch file, without needing to upload the entire content again - which can be a problem on slower networks. This can massively speed up the process of...
App Store: You'll find us featured on - all the...
What's Hot, New and Noteworthy and all across your iPad? All the Oomph apps… We've already mentioned Reader's Digest+ as being one of the main features on the App Store and it doesn't stop there. One of Mogeneration's dedicated Account Managers, James Young did a quick sweep of the App Store and realised that this was just the tip of the iceberg. He brought some overwhelming stats to...
Coles launches their digital magazine powered by...
We are excited to announce the launch of the Coles Magazine for iPad, available for free from the App Store. For Coles, this was a natural extension of their popular Coles Magazine, which is Australia's most widely distributed food magazine, delivering more than 15m copies into stores every year. Packed with around 40 recipes an issue, customers say they love the inspiring (yet achievable) meal...
Kudos to you Mark Zuckerberg and your view of...
Our Oomph CEO Keith Ahern adds to the HTML vs native app great debate. Marks Zuckerberg's comments on HTML5 and mobile is making the rounds and reigniting the HTML5 versus native app debate. Today, Mark Zuckerberg revealed that Facebook's mobile strategy relied too much on HTML5, rather than native applications. Not only was this a big mistake with mobile, but Zuckerberg says that its...
The Sydney Morning Herald featuring Oomph Apps
Oomph powers the future of tablet magazines with Gourmet Traveller and Artisan say our friends at The Sydney Morning Herald:  The rise and rise of tablet magazines
4 tags
3 tags
Experience The Highs App Wins National Mobile...
Fresh from the Australian Mobile Awards 2012, David Waugh has this to say about Oomph: "Oomph is a mobile publishing platform based in Sydney and currently taking the world by storm. It is, in my opinion (and many others), the BEST mobile publishing platform in the world, and best of all it's an Aussie company." Why not download the free app and see for yourself. The full ETH...
1 tag
Embracing the new Adobe InDesign CS6
I've been using the new version of Adobe InDesign CS6 for while now and wanted to share my experience of some of the new features in this release and how they impact the way we work when developing Oomph publications in InDesign. I'm very happy to say, that I for one, am going to embrace these new features and I'm confident most Oomph designers will as well. That said what is it about these...
2 tags
Cosmos Magazine iPad app 'heartily' endorsed by...
6th July 2012 When Richard Branson, Found of Virgin Group Heartily endorses your iPad magazine alongside expressing the importance of the Higgs-Boson discovery you know you have created something special.  Congrats to Cosmos Media who's new Cosmos Magazine iPad app has caught the billionaire's attention on his recent blog post. Talk about bringing science to the masses, Sir Branson...
1 tag
The App Economy is worth $3.6b
28th June We spotted this article today in the Business Insider website - kind of sums up that while there is a lot of noise about Android - (Say hello Nexus 7) to get a return on your App investment the best bet is still with iOS. CHART OF THE DAY: The App Economy Is ~$3.5 Billion Read more here Despite how much attention it's given, the mobile app economy isn't as big as you...
2 tags
Artisan Magazine -"It's flippin amazing"
26th June 2012 Here at Oomph, we're passionate about helping our clients create rich media experiences on the iPad. We've built a pretty awesome digital platform and our Oomph Design team have had some input into almost all of the 120 Oomph powered iPad apps. So, we proudly announce that one of our most experienced Oomph designers Leigh-Ann Thomas has released her own iPad...
1 tag
Oomph Webinar 26th June - Richer Interactivity...
Oomph Webinar 26th June 2012 We'd like to announce our upcoming Oomph Webinar - Richer Interactivity using Action Hotspots, next Tuesday 26th June 12-1pm. What you will learn: How to create richer, more engaging apps Understand what elements within Oomph can be controlled by Action Hotspots See how I map out my interactions prior to building Learn how Slideshows, Google Maps, Video...
1 tag
Future of Media is Bright - If You Reinvent to...
21st June We are very proud to announce the launch of Cosmos, one of the most exciting iPad Science magazines to hit the Newsstand. We welcome this very progressive Science magazine into the realm of Oomph powered Apps and congratulate the Cosmos team on their fantastic interactive app.  Stay tuned for more exciting developments from Cosmos. Press release follows Magazine company doubles...
2 tags
Oomph reviews WWDC and iOS6
21st June Well, it's over for another year. This year's World Wide Developer Conference (WWDC) was one of the most anticipated in years, with predictions ranging from improved Siri features, a new TV, apps on Apple TV to new Macs. Just before the conference, I made a few predictions: iOS 6. An SDK for building apps on Apple TV. And a long shot, new APIs for Apple TV & iOS...
2 tags
Oomph Viewer in the App Store
Spotted in the App Store today June 19th 2012.
2 tags
220 Triathlon now on the iPad
May 25th 2012 220 Triathlon Australia/ New Zealand Australia's successful220 Triathlon Australia/ New Zealand magazine launched yesterday on the iPad. Published by Citrus Media a leading custom publisher, this is the first of what should be a successful foray into the iPad publishing world. The first edition covers Lance Armstrong's foray into triathlon (this week he won Florida...
2 tags
Oomph User Group Webinar 29th May
The Oomph User Group is open to everyone who uses the Oomph platform to create apps. With new features and functionality added regularly, we want our customers to get the most from the platform. Tony Redhead, Oomph Creative Technologist will be running the first webinar on Oomph powered Animations next week 29th May 2012. If you want to be a part of this Group please contact us...